As of May 1st, 2012, TDB has dis-banded….
Buy you can book a fun & funky dance, party and event band over at Hot As A Pepper.
Leaving the following information behind for posterity:
The Dockside Band was formed in the winter of 2009 with the idea of providing a Parrothead type experience for the Upstate. Summertime music you can kick back and relax to, sing along with, or get up and dance to, as if you were at the beach, only any time of the year.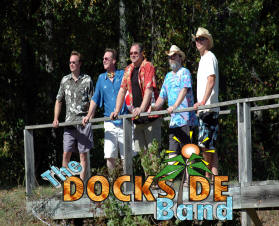 Since that time, we have evolved into a band of many genres, from classic and southern rock to fun country, blues, dance and upbeat, party tunes, and of course, our own original tunes which span several genres themselves, from the "Carolina Beach" style of "Carolina Baby" to the rock "Solitude".
The Band loves to play any venue that they can, but if you have a dockside, lakeside or poolside club or event or a bar with that summertime feel, we need to talk!
We are available for weddings, corporate events, festivals and of course, bars & clubs. We often go "psuedo-acoustic" and play at venues which require a more intimate music experience while people dine and/or talk.
Each member of The Dockside Band brings their own experiences and styles, but the end result is a cool vibe with fun songs that are requested time and time again.
About the Musicians
John M. Hoyt – Bass, Vocals & Guitar
Originally from Fayetteville Arkansas where he played from 1978-1988, first in the country band "Easy Pickin's", then rock/blues bands; "Don't Pass Go!" & "Drastic Measures" before moving to Los Angeles. While in LA, John did session work, played in multiple bands & performed at venues such as The Viper Room, The Whiskey, The Roxy and The Troubadour. Since moving to SC in 1998, John formed the Christian band "Jesus Fish" and took on pick-up gigs as they presented themselves. John joined up with The Dockside Band in 2010 as bass player, vocalist, writer, promoter and technology director. John wrote and arranged the fun "Carolina Baby" which the band played out at a few gigs but never was able to get a studio recording of. His wife, Pamela, served as audio, video and lighting engineer during his stay. They parted ways with TDB in April of 2012 and can now be found with Hot As A Pepper!
Chip McDonald – Lead Vocal
Chip found his love for singing in high school chorus and achieved all state honors five years in a row. Chip has been in "Who's Who in American Music", won a high school talent contest singing "Sweet Home Alabama" and from then on was hooked! After high school, Chip played in various garage bands then went professional and sang with The McCoys in Pennsylvania (They did the hit song "Hang on Sloopy"). Chip's career took him to Texas where he was lead singer for Shadowfax and Silent Majority. In 1986 he returned to The Upstate and joined a local band called The Merge which played in the Clemson area for 8 years. Chip performed with The Dockside Band from September 2011 until April 2012 and can now be found performing with Hot As A Pepper! 
Derrick Dorsey – Guitar & Vocals
Originally from Easley, SC, Derrick developed a love of music at an early age and naturally moved on to making music himself, first with trumpet throughout school and now with Guitar. He has studied guitar under Bruce Hegelson, a graduate of Berkley. Some of his influences are Jimmy Buffett, Zac Brown and Jack Johnson. In 2009, Derrick and his long time friend Travis Ridley formed The Dockside Band. When not playing with the band, you would be hard pressed to find Derrick without his guitar in hand or within reach! Derrick also performs acoustic gigs with The Dockside Band (lite)…

Mark Harmon – Drums & Guitar
Originally from Lexington, SC, Mark has over 15 years of experience under his belt, performing in rock bands in the Upstate of South Carolina and also in Georgia. He has enjoyed playing in a contemporary Christian band from 2008 until current. Mark joined The Dockside Band in the summer of 2010.
Chris Carroll – Lead Guitar / Vocals
Born and raised in New Jersey, just outside of NYC, Chris first played drums at age 6. Been playing guitar since he was 13 and can play anything with strings or that you have to hit. Signed at age 18 with an independent label and then a major label. Professional session musician since age of 20, recording and scoring movie & TV soundtracks, computer and console game sound tracks, TV & radio commercial, as well as working as a song composer. Chris joined The Dockside Band in January of 2011.
Tom Wheat – Saxophone
Tom was born and raised in Nottingham, England. He started to learn the Piano at age 8, which led on to the Clarinet and later, the Sax.
Tom studied at the Royal Welsh College of Music and Drama, gaining a BA Hons in Music and studying with some of the best players and teachers in the business.
Tom has taught and played professionally for the past 15 years, gaining a formidable reputation for reliable and professional performance.
He loves all types of music, and is happiest when playing.
When not playing with the band, Tom is a committed Nottingham Forest fan and enjoys spending time with his family.
Tom moved to the USA in July 2011, and after spending some time learning the language, joined The Dockside Band in January of 2012.
Former members and additional history about the band can be found here.
A few songs from the repertoire:
3 AM – Matchbox Twenty
5 O'Clock Somewhere – Alan Jackson
Ain't no Sunshine when She's Gone – Bill Withers
All Summer Long – Kid Rock
Already Gone – The Eagles
An American Dream – The Dirt Band
Another Saturday Night – Sam Cooke
Auld Lang Syne
Brick House – Commodores
Brown Eyed Girl – Van Morrison
Can't You See – Marshall Tucker Band
Carolina Baby – Dockside Band
Chicken Fried – Zac Brown Band
Come Monday – Jimmy Buffett
Crazy Little Thing Called Love – Queen
Dock of the Bay – Otis Redding
Drunker Than Me – Trent Tomlinson
D'yer Maker – Led Zeppelin
Family Tradition – Hank Williams Jr.
Feel Like Makin' Love – Bad Company
Gimme Three Steps – Lynyrd Skynyrd
Give me One Reason – Tracy Chapman
Green River – CCR
Heart of Gold – Bob Dylan
Hey, Soul Sister – Train
How Far is Heaven – Los Lonely Boys
If I had a Million Dollars – Barenaked Ladies
Jammin – Bob Marley
Keep Your Hands To Yourself – Georgia Satellites
Knee Deep – Zac Brown Band
Last Dance with Mary Jane – Tom Petty
Lights – Journey
Like a Pirate Looks at 40 – Jimmy Buffett
Main Street – Bob Segar
Margaritaville – Jimmy Buffett
Midnight Hour – Wilson Pickett
Moondance – Van Morrison
Mustang Sally – Wilson Pickett
My Hero – Foo Fighters
My Kind of Party – Jason Aldean
My Maria – Brooks & Dunn
No Shoes, No Shirt – Kenney Chesney
Palmetto Party – Dockside Band
Peaceful Easy Feeling – The Eagles
Pirate Looks at 40 – Jimmy Buffett
Play that Funky Music – Wild Cherry
Pretty Good at Drinking Beer – Billy Currington
Red Solo Cup – Toby Keith
Runaway – Del Shannon
Running Down A Dream – Tom Petty
Santeria – Sublime
Satisfy Suzy – Lonnie Mack
Saturday in the Park – Chicago
Simple Man – Lynyrd Skynyrd
Some Beach, Somewhere – Blake Shelton
Some Kind of Wonderful – Grand Funk Railroad
Standing in the Dark – Dockside Band
Suzy Q – CCR
Sweet Caroline – Neil Diamond
Sweet Child O' Mine – Guns N' Roses
Sweet Home Alabama – Lynyrd Skynyrd
Take it Easy – The Eagles
Takin' Care of Business – BTO
Tequila Makes Her Clothes Fall Off – Joe Nichols
Tequila Sunrise – The Eagles
The Remedy – Jason Mraz
The Truth – Jason Aldean
This Magic Moment – The Drifters
Toes – Zac Brown Band
Twisting the Night Away – Sam Cooke
Two Pina Coladas – Garth Brooks
Under the Boardwalk – The Drifters
Why Georgia- John Mayer
Wonderful Tonight – Eric Clapton